---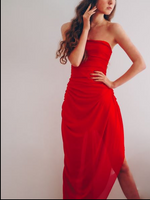 Are you a boutique offering designer dress rentals, a tuxedo hire shop or renting other luxury items? Then BookThatApp is the rental platform for you!
The app supports setting capacity by product or variant, perfect if you are offering dresses for rent in different colours and sizes.
The app also gives you the ability to set a lead and lag time, allowing you the necessary time to ship the item to your customer and clean it upon return.   

Included with the monthly fee is also the ability to send both email and SMS reminders to your customers.   And if you are on the Premium plan you can choose to automate your reminders, saving you time! 
For all of your clothing rental needs, look no further than BookThatApp!