---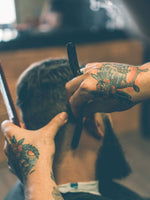 Are you a barber looking to add online bookings to your website?  Look no further than BookThatApp!  The app allows you to offer your clients the ability to book online, anywhere, anytime. 
You can offer different services with different durations for each service, making appointment scheduling a breeze.  Or you can make each service an individual product and book out the staff member for all services if a single service is booked.  You can also allow your client to choose their preferred barber and schedule each barber's time individually. 
BookThatApp allows you to send reminders, via email or SMS so your client never misses an appointment again. And, if you have Shopify Customer Accounts enabled you can also allow your customer to cancel their own booking if needed.  Free up your time, and move your bookings online! 
Key Features:

- Real time availability and 24x7 bookings
- Add staff members and schedule their hours
- Resource based capacity allows you to share service offerings across a single individual
- Booking reminders
- Client cancellations